Advertising With Mobile DJ Online
The popularity of Mobile DJ Online has grown remarkably throughout it's first 12 months. With over 1000 registered members, a busy forum and hundreds of searches made by the disco booking public, www.mobiledjonline.co.uk is THE way to reach both DJs and those looking to book them.
The graph below shows the number of unique, individual users who have visited Mobile DJ Online in each of the last six months. The growth in the popularity of the site from month to month is obvious and the growth shows no sign of slowing.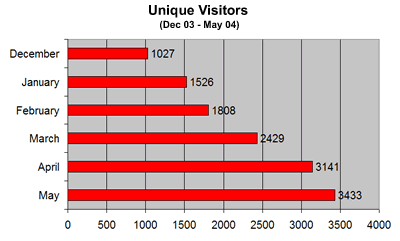 Advertise Your Mobile Disco
Listing a mobile disco or karaoke on Mobile DJ Online is FREE, however if you have a website we do ask you to link www.mobiledjonline.co.uk to it when you register (Click Here for information about adding our link to your website).
We do offer a PREMIUM LISTING service to disco and karaoke businesses, this costs £20 for one year, Premium listings are displayed prominently at the top of the list of roadshows in an area and are also displayed at the top of the search result list for any search for which they meet the relevant criteria. Only two premium listings will be accepted for each area of the country and so if you are considering premium listing, contact the mobile dj online team quickly to reserve yours before it is too late.
To further increase the promotion of your disco business to Mobile DJ Online visitors, we offer banner advertising packages for Discos. These banners are shown at the top of all non-forum pages viewed by non-registered users. This means that disco banners are only shown to visitors looking to book a disco and not other DJs who are viewing the forum or updating their account.
Advertise To Mobile DJ's
Mobile DJ Online offers a free listing service to mobile disco and karaoke roadshows throughout the UK and Eire aswell as a very popular forum to allow DJs and other interested parties to discuss disco related topics. If you offer a service or produce products targeted at mobile djs or karaoke roadshows, we can offer very cost effective banner advertising campaigns allowing you to target this market directly, for banner rates Click Here. If you require more information, please do not hesitate to contact our team using the email address listed below.
Advertise To Party Organisers And The General Public
Mobile DJ Online also offers banner advertising packages targeted at party organisers and members of the general public, these banners are not displayed in the member areas of the website. For banner rates Click Here.
Email the Mobile DJ Online team about advertising [email protected]
Last 5 Updated Threads
HOW MUCH DO N.IRELAND DJ\'s CH…
This Forum
Numark CDMIX2 Problems
acme Excercet\'s
Wedding Fairs